To access your mobile ticket, you need to open the receipt email you received when you made your purchase on your phone. Then click on Download to display the QR codes.
You can also download the mobile tickets using your reference number via download.tickster.com
The easiest way is to add the tickets to your Wallet app, but you can also show a screenshot of the QR codes.
Do you want to add your ticket to an app? Follow the instructions below:
For Android users: please note that you need to install an app first to use this solution and save your tickets. We recommend the app "WalletPasses" or another app that supports the "pkpass" format. Google Wallet does not currently support this format.
After clicking "Download" in the receipt email, you will be redirected to our download page.
If you only have one ticket in your purchase, you will go directly to the option to add the ticket to the Wallet app.
If you have more than one ticket, after clicking Download, you will see your tickets in a list.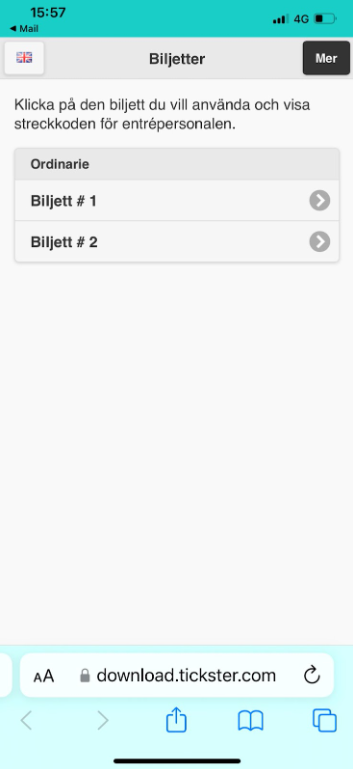 Here, you need to click on each ticket to display the QR code, then you can click on Open in Wallet and then press Add. The ticket will then be added to the Wallet, and you can proceed to add the other tickets/QR codes in your purchase as well.
To proceed to the next QR code, either swipe left or go back to the list of tickets and click on the next ticket.